Yes, here I am - slow at posting again. It's now time to think about the holidays and that's a really busy time at my house.
I know that many quilters also have an interest in beading and I met the nicest lady via the internet who taught herself to do exquisite beading in Belgium. Let me introduce Renata. Her artistry and determination to be successful are inspiring. She has not one, but three Etsy shops where you can see her work and find out more about her.
Seadbeady
SeadbeadyBridesJewel
and also a shop with her paintings
SeadbeadyArt
As Renata explains: Art and music have always been a large part of my life since I was a child. I took drawing lessons and sang and later on I learned to play the piano. Up until 2007 when I had to stop it all, because of severe problems with my back and joints. My cartilage is of very poor quality and as a result I have had several surgeries. Singing in a choir or band was no longer an option, because it got to be to painful. I needed to find another occupation or hobby to keep my mind of the pain.

That way I came to the idea of starting to make my own jewelry. The question was how to start. Internet has no secrets for me so I started searching diligently on the web and taught myself how to make jewelry. In the beginning they were very simple necklaces by just stringing beads on a wire.
Giving up was not an option and I went on a search for more intricate beadwork that I would be able to make. Not just something I could shake out of my sleeve. So I discovered the magazine Bead&Button, which contained a lot of special beadwork. I bought the book Creative Beading, which was a compilation of all the stuff they had published in their magazines throughout the past year. That way I learned a lot of different techniques and got inspired to make my own designs.

Nowadays practically all of my spare time goes to beading and designing jewelry. Everything in my shop is made by myself. A lot of those pieces require a lot of technique and 3 or more days to make. But I just love making special jewelry, original and unique pieces of art.
This beautiful beaded box really caught my eye. Can you imagine all the hours that went into making it?
She also shows pictures of her works in progress. It's amazing!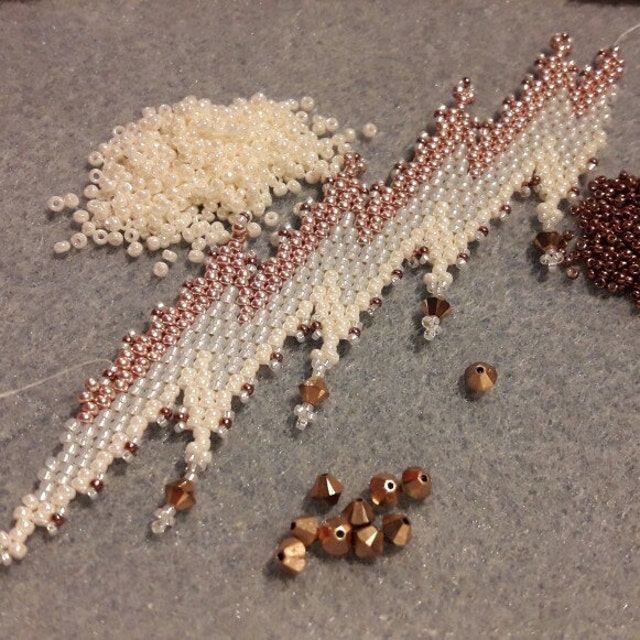 Working on a new Bargello necklace in Rose gold white and ivory with Swarovski crystal
As for me, I'll try to be back online soon to post again. Perhaps I'll focus on my progress at decorating the house. I have one Christmas item on display so far and yes, it's a Christmas quilt! Most of it is the result of a block exchange with the guild that I belong to. I had it on display one year at the South Carolina State Fair so perhaps I'll find a picture of it to share.
Happy "Get Ready for the Holidays" Everyone!